STYLES OF MAGIC
EXCITING ENTERTAINMENT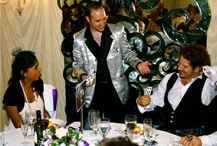 Magic is the ideal choice to add exciting entertainment to that special event. When booking a magician for your event, it is important to book a performer who is flexible enough to meet all your needs.
There are many different styles of magic that you may wish to consider, these are: Walk-About Magic, Table-Top Magic and Cabaret Magic all of which Michael can deliver bespoke to your requirements.
Michael specialises in Mind Reading, an area of magic that is most entertaining and baffling. Imagine just how your guests will feel when they witness their own minds being read. Michael is able to predict human behaviour and guarantees to prove this with a variety of different methods and techniques.
This exciting magician's presence at any event creates much curiosity as he can psychologically influence an entire table into selecting the same playing card, which he had as a prediction before he even approached the table. He can also influence individual people to have them read his mind. Michael incorporates psychological suggestion which has an amazing impact on the audience's beliefs.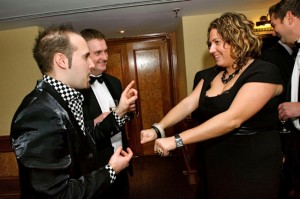 Michael performs at private parties, corporate events, trade shows, exhibitions, product launches, charity events, hotels and restaurants. Presenting magic with cards, rope, fire and a variety of unusual objects, you'll believe the impossible is possible right in front of your eyes and often in your own hands! Michael is able to adapt and tailor his performances to suit any event. Whether it be a small private dinner party with just 10 guests or even a large corporate dinner with over 1000 guests, Michael will always delight and charm his audiences whatever the number.
STYLES OF MAGIC
MIX 'N' MINGLE MAGIC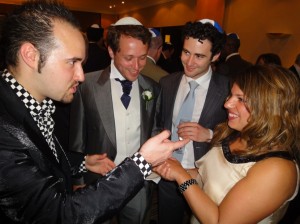 Michael is able to perform his magic in walkabout situations. He will walk amongst your guests entertaining small groups with elegant sleight of hand and very visual magic. This will ensure that your guests feel immediately welcomed and involved thus making an exciting conversation starter. This type of magic is perfect for receptions and cocktail parties.
As well as performing a mixture of magic and pick-pocketing, Michael spends more time performing his mind reading repertoire as the main focus for walk-around magic.
STYLES OF MAGIC
TABLE TOP MAGIC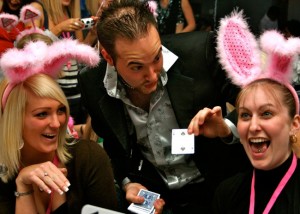 This has be the most popular and best form of entertainment within the magic sector as no matter how hard you look, it is impossible to see how the magic is done! It is ideal for any private or corporate function and is a powerful icebreaker at any event.
A signed card is caught in a mousetrap… another signed card appears on the ceiling above you and £5 notes magically transforms into £50 notes! And that's just the start of the unique magical experience brought to you by Michael Gee.
Michael will also incorporate pick-pocketing within his close-up performance. He is able to swipe wrist watches from unsuspected members of his audience without their knowledge. Please click here to see a video of Michael demonstrating this for BBC News.
STYLES OF MAGIC
CABARET MAGIC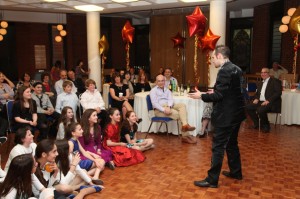 Michael's cabaret performance will combine both comedy magic and mind reading. His stand up cabaret performance can run anything from 15 minutes to 90 minutes depending on the type of show that you require.
Your guests will become stars of the show as Michael will select members of the audience to participate in exciting mind games that will stun and intrigue them for years to come.